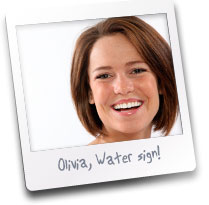 Who is Olivia? Olivia is a 35 year-old Scorpio and was first introduced to Astrology by her grandmother. She began to draw her first maps of the Heavens and create her first birth charts for friends and loved-ones in her teens! It wasn't long before she decided to study Psychology to complement her passion for the stars and found numerous astrological contacts through the network.

In 2010, she turned professional. With the great instinct of her sun sign (Scorpio), she is extremely good at reading heavenly alignments. For this reason, Mon Horoscope du Jour recruited her the same year through a message on Facebook. She is the person who will draw up some of the birth charts on the website and will give a boost to some of the articles on astrology!

Olivia brings us her expertise, unparalleled know-how, savoir-faire and fresh outlook with one and the same goal: to gain a better understanding of ourselves through astrology!