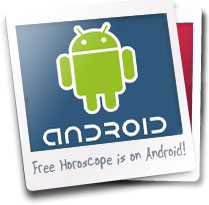 Download the Free Personal Horoscope app now to read all your horoscopes, for today, tomorrow and the next day with the latest upgrade for phones and Android tablets.

The upsides of this app: Its notifications will enable you to be ahead of the game with all Astro updates. The app and horoscopes are completely free of charge. And you will be able to consult the expertise of professional astrologers!

Install: Free Horoscope on your Android Smartphone and Tablet

Launch the interactive Astro wheel, set your account to receive your horoscope at your convenience. A great application to share, to communicate and to install!