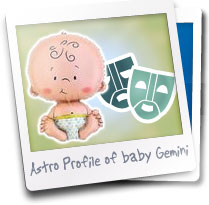 Those born under the sign of Gemini (an Air sign) are also born under the auspices of the planet Mercury. Geminian babies are energetic to say the least and are absolute whirlwinds! They sparkle and are always smiling, on the lookout for new discoveries, not leaving their parents much respite from their lively antics.

These babies are curious and want to experience the world for themselves! Keep an eye out for staircases, electric sockets and taps, or you will be in for an awful fright! You will not be able to leave them alone for a minute!



The Geminian baby thrives by enjoying play and is interested in everything, with a predilection for anything relating to words and the air. He or she will ask you hundreds of questions about everything and will always be trying to work things out. Try not to get tired of answering their questions, as this is an excellent way of learning for them! Give them access to a library of primers, mini-dictionaries and books on all kinds of subjects.

These are children that need cerebral activity and to give full rein to their imagination. Give them what they need to achieve their potential and feel challenged! They appreciate friends and board-games above all else and will quickly turn into children who are surrounded by others and liked for their ability with words. They are real charmers, who will have their teachers, friends, close family and even you wrapped round their little finger! So, be careful they do not manipulate you too far, and stick to your principles! Learn more about the Gemini rising sign.



Living with the Gemini Baby!

Small Geminians cannot keep still. Teach them to stay focused and see things through. Establish a routine in order to impose a schedule and framework for everyday life. For them, this will be an excellent way of developing what they have achieved, rather than wanting to run in all directions!


| | |
| --- | --- |
| Planet : | Mercury |
| Element : | Air |
| Motto : | I think |
| Colour : | Yellow |
| Strength : | Lively mind |
| Weakness : | Indecision |
| Sense : | Smell |
| Comforter: | A book |
| Favourite pastime: | Dressinf up, acting! |
| Favourite animal : | Monkey |
| Social life : | Having lots of friends |
3 comments - Astro Profile of baby Gemini
Add a comment
(dernier message le 05/04/2017 à 21:22)
---

haley.k
Posted the 30/01/2017 at 13h26
all of it is so so true!!

Susan
from the site Free-Horoscope.com
Posted the 30/01/2017 at 16h51


haley.k
Posted the 30/01/2017 at 13h26
all of it is so so true!!

Thanks haley.k for your comment

brayden
Posted the 05/04/2017 at 21h22
I can see almost all of those things in my life, i try to shine my brightest and smile my biggest every single day. I love exploring and experiencing new things. I LOVE dressing up and acting!
---
Add a comment