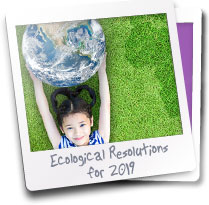 2019 should be the beginning of an ecological era!
 Uranus goes into Taurus and will remain there until 2026. The Earth will probably be at the heart of all debates and the time has undoubtedly come to take this problem head-on, in the interests of long-term stability.
 With Jupiter at home in his master sign, Sagittarius, all year long, we will not be deprived of good moments, more or less, festive. Jupiter will make us dream of a better world and infuse all of us with high ideals.
 Let's also count on Saturn to channel these magnificent but sometimes excessive impulses. Now is the chance to sort projects from utopias. 
Each of us can, in our own way, contribute to a better world, for ourselves, our family, and for our common future! 

Here, based on your temperament, are examples of good ecological resolutions for 2019 ... One that does not exempt you from other, more personal, commitments!



Aries: In 2019, eat seasonally!
 Go to the farmer's market instead of the grocery store or, better yet, if you can, buy your fruit and vegetables directly from the producer. Even if they are not completely organic, at least they will not have travelled for 10,000 kilometres before arriving on your table!

Taurus: In 2019, you do everything to limit your energy consumption!
 Everything is good: regularly defrost your fridge and freezer, cut your modem at night or when you are away for a weekend, turn off the night lights and switches. In another vein, prefer the train to the plane when possible and take showers rather than baths!

Gemini: In 2019, reduce your consumption of non-free range meat!
 You are the champion of proximity and exchanges with your close entourage. If you do not want to become a vegetarian, try at least to get your meat from the local breeder or the organic department of your supermarket. Nature and your health will say thank you!

Cancer: In 2019, you explore second-hand sites and opportunities. 
Second hand shops are becoming more and more attractive, far from the thrift stores of yesteryear! The stock market for clothes is increasing and the Internet is full of good second-hand bargains, whether they are high-tech equipment or new/old dishes. Try it, you will not be able to do without it!

Leo: In 2019, permanently ban plastic bags and overpacked products!
 For this new year, treat yourself to pretty shopping bags made of fabric, leather, or wicker ... Not only will you help protect the oceans but you will also complete any outfit with originality and elegance! Prefer bulk and buy the least amount of processed, energy-hungry and harmful products!

Virgo: In 2019, discover how to make your own cleaning and hygienic products! Grab some baking soda, white vinegar, and essential oils and you're ready to make laundry detergent, shampoo or sanitizing products! Many sites offer ingenious recipes that you just have to test. Bonus: substantial savings!

Libra: In 2019, dress green!
 The fashion sector is the second most polluting industry! Choose quality rather than quantity, give up articles manufactured by Asian children and choose natural materials over synthetic materials, which depend mainly on oil. By choosing to dress "green", you will support local producers and artisans, protect the planet, and your clothes will be healthier for your body!


Scorpio: In 2019, do your shopping in bulk!
 A few jars and some cloth bags and you're ready to go to the local store to buy your products in bulk, without unnecessary packaging and just the quantity you need. Once and for all ban cotton buds, straws and all these little superfluous objects which fill our oceans by the billions day by day ... You will have a leg up on the legislation!

Sagittarius: In 2019, avoid waste!
 Your sign is known for its excess (goodwill). This is the time to better understand your real needs and discipline the impulses that make you see everything too big. Follow your recipes to the letter, do not double the quantities and, in all, learn that sobriety is good for the planet and your wallet!

Capricorn: In 2019, do not throw away: give, sell, and recycle!
There are thousands of ways to get rid of the superfluity that hangs in your closet. Between flea markets, second-hand sites and NGOs, you should already get rid of the bulkiest: furniture, clothes, and books. For what is irrecoverable, make this year the year where you carefully sort your trash, between glasses, plastics and compost!

Aquarius: In 2019, favour public transport or cycling!
Try, as often as possible, to leave your car in the garage and test new ways to move, which proliferate between carpool, train-tram-bus-metro, bike, scooter or rollerblading! A new way to meet your crush and, why not, make yourself noticed... positively!


Pisces: In 2019, join an association: ecological, humanitarian, or cultural!
There are more and more local associations looking for volunteers. Whether it is to help the homeless, defend animal rights, or to participate in more unusual projects, you will always find something to concretely use your good will rather than daydreaming!
1 comment - Ecological Resolutions for 2019
Add a comment
---

Annie
Posted the 29/12/2018 at 22h00
I think we should all try and do everything. ?
---
Add a comment