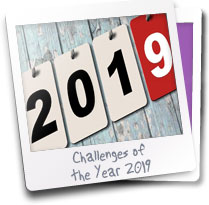 In 2019, Pluto will finally evolve without major aspect to another slow planet. It is the end of the unbearable tensions between power and people. Uranus settles in Taurus and finally opens the world to new responsible ecological perspectives. Jupiter at home in Sagittarius strengthens all ideals, everyone dreams of a better world for themselves, their relationship, their family, and the world. This enthusiasm is very promising if we do not fall into sterile fantasies: we must always keep in mind the meaning of reality!



Aries: This year, accelerate the movement and mobilize yourself to evolve as much as possible, especially in your professional life. You will reap the rewards of your efforts as Uranus invites you to unleash your potential and explore new avenues. Saturn continues to demand sustained efforts from you and offers you many challenges that you will not fail to answer. You can also rely on Jupiter to go beyond your limits and achieve your ambitions, whether social or emotional.

Taurus: Uranus enters your sign and will gravitate to it until 2026. The time for great change has come: you take your destiny in your hands and you aspire to free yourself from the shackles of the past. Also count on Pluto to explore new avenues that can change your view of the world. Saturn will confirm the path to take without resisting unnecessarily and Neptune will elevate your mind so you can steer your future differently. As for Jupiter, you can count on his enthusiasm to accelerate the movement, take advantage of the efforts and the progress made in 2018.

Gemini: In 2018, you were focused on ways and methods to take off professionally and improve the ordinary. In 2019, you should reconnect with the vertigo of love: Jupiter promotes unions, commitments, and even associations of all kinds. It is, therefore, an opportunity to reconnect with a rich emotional and social life and sign exciting and advantageous contracts. But 2019 is also a year of questioning and interior turbulence to explore and understand. However, this year invites you, above all, to take a step towards the light...

Cancer: In 2018, Jupiter warmed the mood in your loves, Saturn has refocused on what is essential to experience in your relationship, and Pluto pushed you out of your comfort zone to encourage you to operate the metamorphoses that you need to accomplish, to live who you really are, in tune with what you expect from life. In 2019, you continue this momentum and you can count on Jupiter to anchor what you have built so far on a daily basis. Now is the time to mobilize to improve what can still be improved so you can go through 2019 as serenely as possible.

Leo: You mobilized in 2018 on the family front, where you made changes that could improve your emotional life, your exchanges with your loved ones, and a quality of life that you want to optimize. In 2019, you have opportunities to implement the changes you expect even if you sometimes have to contend with daily constraints or limitations that interfere a little. Jupiter invites himself into the field of your theme dedicated to love! Expect to reignite the flame or to seduce whoever you want and, in any case, to break with loneliness in 2019 !

Virgo: If in 2018, you had the opportunity to connect favorably with the world around you, to enrich your spirit and your world of relationships, and feed quality exchanges with your loved ones, then you will use these assets, in 2019, to tighten the bonds even more and you may settle in a new environment that can further promote your development and that of your loved ones. You have the desire to live in a warm atmosphere and you make every effort to achieve it. Count on Jupiter, an accomplice of your projects, to open hearts and to found or enlarge a beautiful family!

Libra: Jupiter has enabled you, in 2018, to exploit your best talents and make the changes that have been taking place since 2017 into a reality! In 2019, you open new ideas, make new contacts, and meet important people. You widen your horizons, you evolve on the relationship front, and you progress in the world of your ideas and communication. It is an ideal year to study, embark on a reconversion, travel, or bloom in a creative and dynamic environment.

Scorpio: Jupiter invites you to begin a new life cycle and expansion in 2019. It's up to you to seize the best opportunities to showcase yourself and to express openly who you are and what you really want and what you expect from now on in life! Since the end of 2018, this giant planet has helped you realize your progress, exploit new potentials, and obtain the recognition you deserve. You also have beautiful possibilities in love to fully live your desires and in business you are able to prosper and even win the moon.

Sagittarius: Jupiter played in your camp in 2018 but it has not always allowed you to act and embody in reality what you have carefully designed and perfected. Count on this giant planet of the zodiac from November 2018 and all year in 2019 to finally open wide a new cycle of expansion and, perhaps, even a new chapter of your life! Now is an ideal time for you to launch new challenges, step into the spotlight, and take your place while leaving space for your partner and others!

Capricorn: Saturn present in your sign pushes you, this year, to internalize and identify who you are and what you need now to live an authentic existence, in harmony with your aspirations, while continuing to explore your own depths to finally get the best and start a radical but positive transformation. As for Jupiter, he asks you to review your work, tweak your strategies, and finalize your action plans in order to be ready in 2020 to launch a new cycle of expansion, when Jupiter will evolve in your sign. You will then be in full possession of your means!

Aquarius: 2018 has kept you mobilized on the social front, you have been forced to step back to make things move as calmly as possible, especially within family. By the end of 2018, you will benefit from Jupiter's favors, which will allow you to consider the future and your life differently. In 2019, you find effective support to realize your projects and even your dreams. This year promises to open new perspectives, even if your future seems conditioned by the lessons you will have learned from the past! Think about it seriously so you don't miss ticking off any boxes in 2019!

Pisces: In 2019, Jupiter urges you to realize your social ambitions and puts you in the spotlight and center stage. You are keen to shine and make yourself a place in the sun and strengthen your situation. New ideas come and you develop an originality that could encourage you to try something else or encourage you to renew your entourage or your daily environment. You have strong assets to serve an ideal that is important to you. You will win votes if you leave the floor open to others as well.
0 comment - Your Challenges and Advice in 2019 !
Add a comment
---
---
Add a comment